I think this man was fired less for brand disloyalty, and more for displaying a worrying lack of judgement and taste:
Man Claims Firing Over Drinking Wrong Beer
Tuesday, May 17, 2005: MILLIKEN, Colo. - A former supervisor at a Budweiser distributorship says he was fired for drinking a Coors beer in public.

Ross Hopkins, 41, filed suit in Weld County District Court, saying American Eagle Distributing Co. has no right to tell him what kind of beer to drink when he is off-duty. Hopkins said he was fired in May 2003 after the son-in-law of the distributorship owner saw him drinking Coors in a Greeley bar.

Jeff Bedingfield, an attorney for American Eagle, declined to discuss the specifics of the lawsuit but said "there are two sides to every story."

In its court response, American Eagle said Hopkins was fired "for conduct that relates to a bona fide occupational requirement that is reasonably and rationally related to the employment activities and responsibilities of a particular employee."

The court filing does not directly challenge Hopkins' claim that he was fired, at least in part, for drinking Coors in public.
As Jamie over at
The Shrewdness of Apes
will no doubt concur, Coors drinkers should take this warning to heart. Perhaps this story also proves that being associated with Budweiser, indeed being associated with any cheapskate European style beer made from rice, reduces one's critical faculties. In any event I think this makes the case for avoiding both Coors and Budweiser if reasons of flavor alone were not enough.
Indeed, it makes one recall the pithy words of George Bernard Shaw*:
"Why is Coors Light like having sex in a canoe? Because both are fucking close to water."
(*Or someone else.)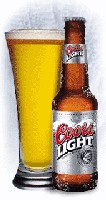 Piss

Beer