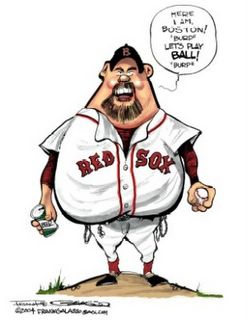 Goddamn Red Sox. At least it wasn't at Fenway after the championship celebrations, but it was pretty much pre-ordained that the Yankees would win last night from the second the Sox finished celebrating on October 20th 2004.
In the field the Sox were the bad old bumbling weak-armed flat foots that looked so funny on the highlight reels all winter, but leads to increased sales of Zantac across New England the rest of the year. The hitting looked rusty, especially Papi, whose swing more resembled a golf drive than a fence clearing home run. And the pitching; I swear I have witnesses that can testify I bemoaned the arrival of Wells from the outset, and not just because he resembles a corrupt town official I battled for years on the radio in the last town I called home. In Red Sox nation, asterix don't usually signify disputed records but rather denote new middle names given to select players by fans; David F*****g Wells. He looked as if he'd been found out last night, all those years of defying his grotesque physique and lack of athleticism catching up with him over four innings. And of course it comes home to roost as soon as he joins the Bosox. I know its early days, that everyone has a bum start at least once a season (even NASCAR driver's head on a stretched chicken's body-man Randy Johnson) but why the hell did it have to be the MLB opener, at Yankee Stadium, against Chicken Man, in front of the Donald, with Ass-Rod strutting about as if HIS team had won the World Series? A balk? Jesus. And how do you hit Jason Giambi twice? He's half the target area he was 12 months ago. Enough already. Its a marathon, not a sprint. On the upside, Kevin Millar just makes me smile, either as a parody of a Owen Wilson character off the field, or with his "I'm a worried old man" face at the plate.

Guys? Err, guys, I'm stuck. A hand, guys? Guys?
Here's what the 'Orrible 'Erald as to say about last night:
Wells opens with stinker
Furthermore, Johnny Damon should have his mouth stapled shut:
"The Idiot thing kind of took on a life of its own," the king of the Red Sox Idiots, Johnny Damon, told Spring Fever. "Idiots have a whole different image now. Being the village idiot doesn't seem so bad anymore. Green Day even has that song, 'American Idiot.' The whole idiot concept has just taken off."
Truly, not an idiot but a moron. Still, he's our moron.

I....smell.....HOTDOGS!!!!!