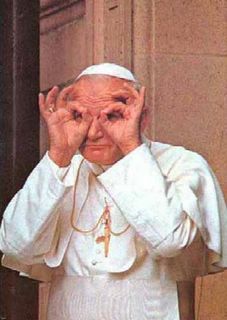 "April Fool, Assholes!"
I feel bad for Karol Jozef Wojtyla, the Pope, as a man. As an institution my gut hovers between indifference and cold anger. Pope John Paul II could have been the most saintly man alive and it would have made no difference, for as long as he sat in an art treasure laden palace upon a gold throne while human beings starved he and his church failed to follow their own teachings. Once he dies, they will continue to fail, caring more about feeding tubes and abortions than about clean water and sufficient food for all people.
Besides, the Pope isn't/wasn't a saintly man, he is/was a right wing ideologue from the Reagan/Thatcher mold (although he wasn't above cosying up to any authoritarian figure). I could go into great detail about the odious deals made that damaged thousands of ordinary, non-powerful, non-rich people but its Friday so instead, lets have a look through a flip-book of fun:

The Pope blessing the Chilean fascist Augusto Pinochet. JPII favored continued immunity for this mass-murderer and tourturer.

The Pope greets Saddam Hussein's christian Foriegn Minister, Tariq Aziz. Aziz served Saddam for over 20 years is now on trial for human rights abuses and war crimes.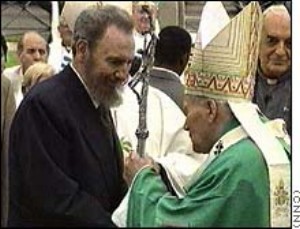 The Pope and the dictator: Il Papa opposed "liberation theology" in Central and Latin America and stood by as brave priests and nuns fighting for the poor were murdered, but he always had time for the regional strongmen.

No Vatican visit or tour of the Papal wine cellar for this girl though.