Happy birthday to Weasel! Yep, today marks the one year point of this humble blog. I could have chosen to have marked the occasion in a myriad of ways, but decided that a
Listmaker
style photo gallery from my recent trip to
Sugarloaf USA
over in Carabassett would do fine.
We went to visit our old friends Diana and Scott "Boss" Hogg over at their mountain pad. Despite the fact that I hadn't skied in 15 years, I had a blast. We even convinced my mother and her husband Mark to give it a shot....

Sugarloaf USA, home of Bode Miller. Move aside Miller, here comes the Weasel.

Dinah, Mr & Mrs Weasel's pride and joy, looking noble. Bailey (the other pride and joy) was off rolling in deer droppings

Our Hosts #1: Boss Hogg (with the dreads and beard)....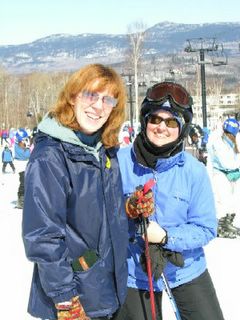 Our Hosts #2: Lady Di (with helmet and goggles)

Mr. & Mrs. Weasel, Maine schlubs or rugged outdoors types eschewing high fashion?

Mother and Mark strike a mountain pose

See Frankenstein ski! See Frankenstein chase pretty lady down hill!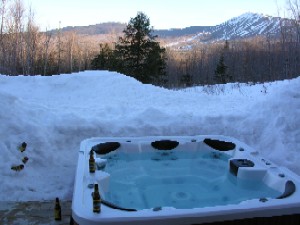 I passed out before I could reach the hot tub