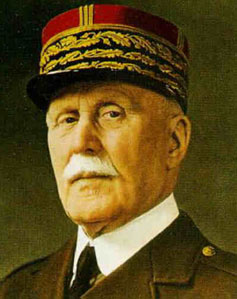 France: hardly a glorious beacon in the struggle for freedom and global justice (picture shows Petain, president of the French rump after the Nazis invaded)
As has only recently been mentioned, the French establishment make it terribly hard for even the most committed pro-European Briton to like them. I love their stylish movies, their outstanding food and wine, their varied and gorgeous landscapes, and I have found individual French people to be some of the nicest on earth (even if Paris collectively booed the London 2012 announcement) but their politicians seem intent on being pricks.
I am no fan of British Home Secretary (interior minister) Charles Clark; I feel that he is a blustering, craven opportunist of an ideologically barren stripe, but if he's telling the truth in the excerpt below one can only wonder what the hell the French hoped to accomplish by their comments:
(From the BBC):
Row over French bomb arrest claim
Home Secretary Charles Clarke has denied some of the London bomb suspects had been arrested last year. French Interior Minister Nicolas Sarkozy said the UK delegation made the claim at an EU terrorism meeting.

Mr Clarke said the comments were "completely and utterly untrue", and said there had been no conversation on the issue. Officials are adamant the men were not arrested and then released in order to break a wider network.

Mr Sarkozy said: "It seems that part of this team had been subject to partial arrest."

But Mr Clarke said he was baffled by his French counterpart's comments.

"Mr Sarkozy was inaccurate, shall I put it gently, in suggesting that there had been a discussion of this kind because there was not," Mr Clarke told journalists. "There is absolutely no foundation in them. Mr Sarkozy was a little late to the event today and I had a brief conversation in the corridor with him and had a discussion in the full council about some of these issues. In neither the full council discussion nor the discussion with Mr Sarkozy personally was there any exchange or discussion on this matter whatsoever."

He added: "I'm not aware of the allegations that Mr Sarkozy has made. The police are looking into the background of each of those individuals involved... very comprehensively. I simply don't know where he could have got that from to make his remarks. I'm sorry to be so blunt but that is the state of affairs."

Asked whether he had approached Mr Sarkozy to correct his comments, the home secretary said: "I haven't seen him yet. He left the council halfway through. He didn't feel it appropriate to stay until the end of the discussions, perhaps that is his style. He's a great leader for France and I wish him the best."

A French diplomat later sought to clarify the comments, insisting that Mr Sarkozy had said, quoting British sources, that the bombers belonged to a network, some of whose members had been arrested in 2004.
Now what good did that do? French politicians are like the people you invite to dinner who then spend the whole night telling you your pictures don't hang straight and that the curtains don't go with the sofa.