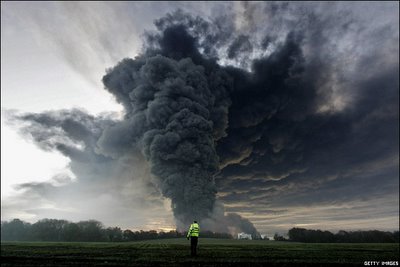 At about 6am GMT this morning, the Buncefield fuel depot near Hemel Hempstead in England blew up. First I heard of it was when I called Dad (who lives about 8 miles away from Hemel) to let him know the Christmas presents had arrived. Like all good Brits he is having an outpouring of the old Blitz Spirit, watching the night sky at noon caused by billowing smoke, and attempting to roast a chicken on a brick in the oven. We did briefly discuss the practicality of him digging out his old gas mask from the shed, but the filters were last checked in 1986 and it might send the wrong message to walk about with a respirator on while my sisters and Mrs. Dad have to make do with handkerchiefs over their noses. I have yet to call Mother but I hope she didn't have any washing out.
As the BBC puts it:
A fire is continuing to blaze at a fuel depot in Hertfordshire after a series of large explosions sent black smoke drifting across south-east England.
Deputy Prime Minister John Prescott has visited the scene of the blasts which injured 43 people, two seriously.

A fire chief described the incident at the Buncefield fuel depot near Hemel Hempstead, after 0600 GMT, as possibly the largest in peacetime Europe.

The fire, which police believe was an accident, could burn for another day. In total, 20 petrol tanks were involved, each said to hold three million gallons of fuel.

Many houses have been damaged, with some reporting feeling effects from the explosion as far away as Oxfordshire - while it was heard in a number of counties and even France and the Netherlands. (the full story & pictures.)
Dad, who had been out to the bakery to pick up breakfast not long after the explosion (which he had initially taken to be a small earthquake; rare, but not unknown) also reports the second modern reaction to adverse events after looking for a reporter to talk to- car owners rushing to fill up lest supply be disrupted. For all the British sneering at loonies in Montana waiting for the end of the world, its only a short step from panic fuel buying to storing water, bullets, and Geiger counters under the stairs in anticipation of Armageddon, you know.