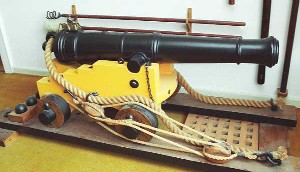 This gun was fired at the French and Spanish, not 'red' or 'blue' forces
"A re-enactment of the
Battle of Trafalgar
is not an opportunity for "French-bashing", says the Royal Navy.
Instead of the British taking on a French/Spanish fleet at next month's event to mark the battle's bicentenary a "red" force will take on a "blue"...
BBC: Battle must not 'bash' French
"
Bloody hell. This is terrible; not only is this an example of political correctness gone mad, its turned me into some harrumphing purple face little Englander who uses phrases like "this an example of political correctness gone mad". In my defence, I'll admit to having an
Admiral Nelson
(the most famous son of Norfolk) portrait and two reproduction Royal Navy recruiting posters ("If you love your country and king, damn the pope, and hate the French.." as one starts) hanging in my house, fond childhood memories of touring Nelson's flagship
HMS Victory
on multiple occasions, and a habit of talking or typing
Patrick O'Brien
style dialogue around grand sporting events. Bollocks to them; they lost, we won. You don't see me blubbing every July 4th, do you?